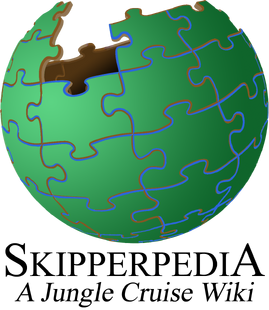 This wiki archives the many jokes of the World Famous Jungle Cruise!
Now featuring thirty-five years' worth of the Magic Kingdom's spiel--including its Jingle Cruise--and some really early Disneyland material, as well! More to come.
This is a fan site, unaffiliated with the Walt Disney Company.
In the interest of navigability, the jokes are condensed as much as possible. For example, openings like, "It looks like we've found," or, "Wow!" tend to be omitted. The same goes for over-explanations of jokes that flop. Some liberty is also taken in fixing clumsy phrasing.
Bullet points are used to display alternative punchlines and optional tags, and as a way to break up longer jokes without making them look like separate jokes.
We've finished a major formatting update.
Now all four versions of the spiel share the same scene pages. Not only does it make this site simpler, but it also makes the spiels easier to compare and contrast, and perhaps even to create new material.
Despite our best efforts, there may be some dead links. Please let us know, and we'll fix them as soon as possible. We appreciate your patience.
Organize the spiel by what style of humor it exemplifies. Make it easier to assemble, say, a fully absurdist spiel.
Figure out the clearest way to display recurring jokes, perhaps by giving them a page of their own.
Consider breaking down the Jingle Cruise sub-section into sub-sub-sections that modify other sub-sections. This sounds confusing and is a bad idea, but it's well-intentioned.
Explore different ways to format material that involves dialogue (and / or) action-descriptions. A block of text filled with brackets isn't very sightly.
Denoting whether jokes were officially in the script or not, and--if they were--what year they were introduced into the spiel.
Community content is available under
CC-BY-SA
unless otherwise noted.